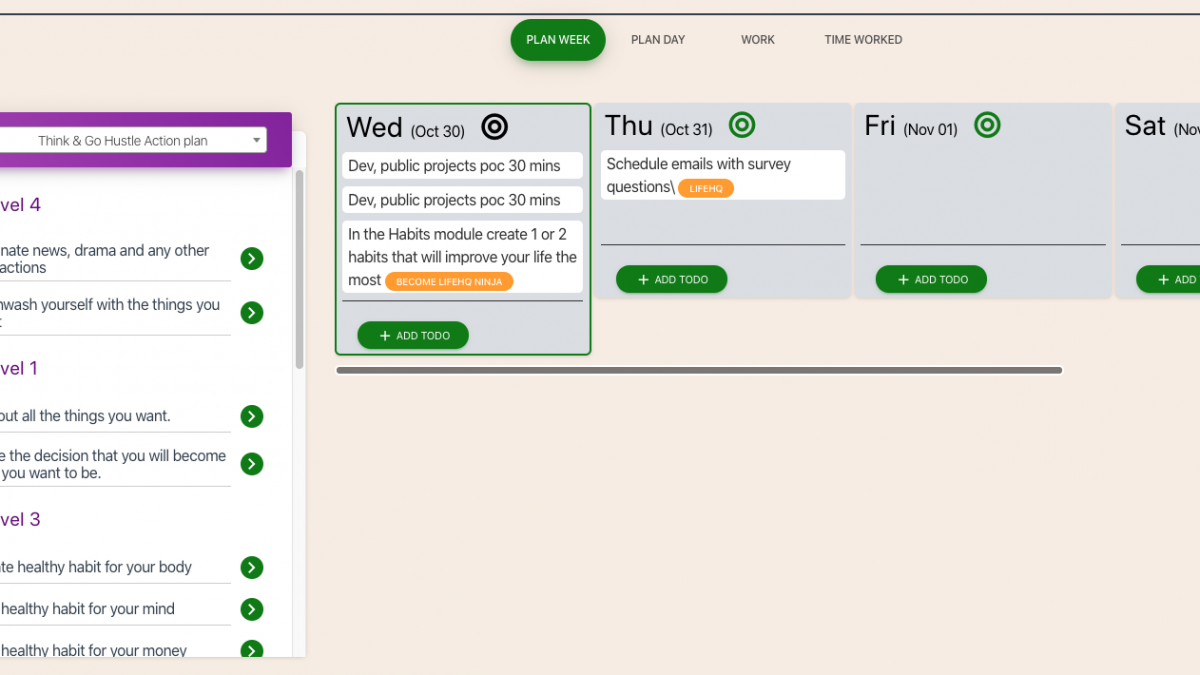 Roadmap Update #8: Scheduling tasks and weekly planner update
Darko Kolev, 4 years ago
0
3 min

read
1697
Hey all,
Welcome to another Roadmap update #8.
Today I'm introducing one new feature and one improvement.
New feature: Scheduling tasks indefinitely in the future
I often find myself putting too much tasks on my daily list and wanting to reschedule some for tomorrow or the next day.
Another scenario is something comes up during the day that I need to get done in two days. So far I had to go to the weekly planner and create the task there, but even then it could only be scheduled for this week. Or I can put it in a projects and make it sit there indefinitely.
Now with this new schedule feature we can create tasks right here in the work tab and then schedule it for next week. The task magically disappears from the master list and appears when its time comes.
This schedule setter is available in all tabs where you can see your tasks. In Plan Week, Plan Day, Work and even in your Project section.
Improvement: Weekly planner
Previously you would always see the weekly planner display the days between Monday and Sunday. Even if it was Friday today, you would still see Monday through Sunday. You would be seeing five days in the past, for nothing, no point in scheduling tasks in the past.
With this improvement the first day in the weekly planner is always today and you can schedule up to seven days in advance.
Coming up
I have had a few complaints that LifeHQ is too overwhelming to take it all in at once.
There are 5 different modules that could be difficult to fit in together on the first day.
And to be honest, not everyone likes to keep journals or track habits, they want to get stuff done and move on, which is fine by me. Let's make it modular then.
Making it modular
I will be adding a new functionality where you can disable or enable the major modules: Journal, Habit tracker, Notes, Projects and Master List. Once you disable a module you will no longer see it in the menu or on the home page, it will also not be part of your daily mission.
Better explanations
I've been planning to do proper walkthrough videos of all LifeHQ modules for a while but never gotten to it.
I am writing it here in public and committing to get them done by December 1st. I think even long term users will discover some hidden gems they didn't know existed.
Karma points
Currently there is no way to see how much you've done the previous day. You can only see your habits and journal entries but your completed tasks are only visible in the projects section. You can't review your daily master list from yesterday.
This is a feature I've been missing since my Todoist days, to have a clear view of how productive I have been these past week and making sure I keep going.
The LifeHQ karma points will be stored at midnight (your timezone) and will include: tasks points, habits points and journal points. Journal entries will count as two because they require actual thought, not just checking boxes like the other two.
I for one am looking forward to the challenge.
I know design is not my strongest suit and that is why I will go the extra mile to make these look slick and modern.
And that wraps up Roadmap update #8.
Until next time,
Stay productive.
Darko Kolev
Productivity nut, Tech lead, Writer. Founder of FocusHub, the First Productivity social network.
Related posts