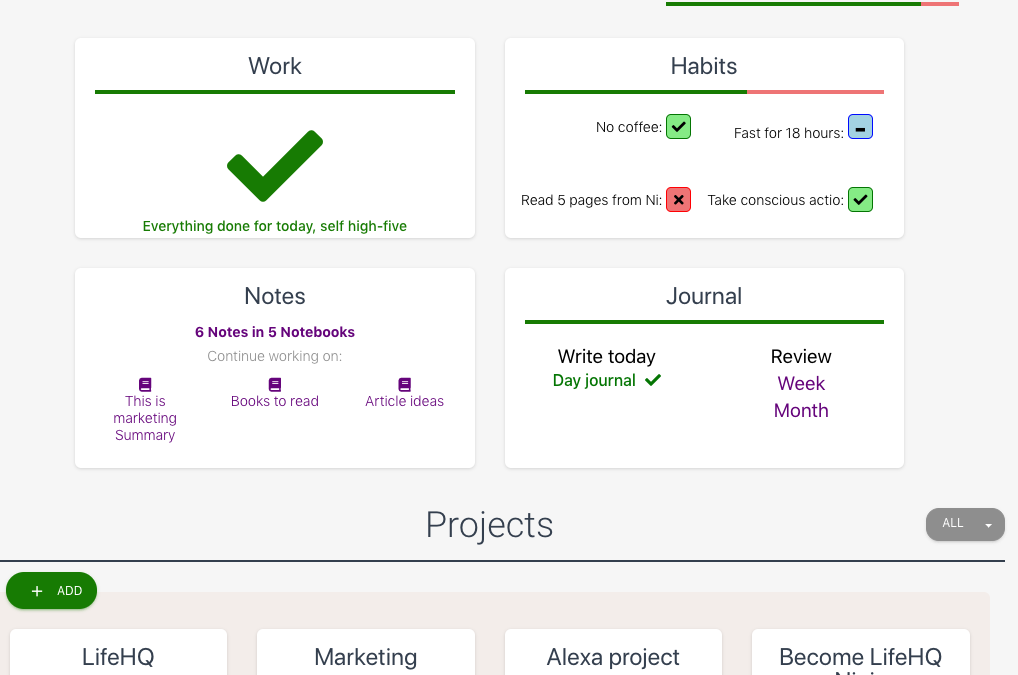 Do you measure your successful days?
Have you wondered what a successful day looks like for you?
For me. It is a day when I'm being my best self, at least 90%. So what would my best self do.
Walk the talk
My best self does the things he says he'll do.
This sounds silly and obvious at first, but very few of us actually follow through on all the things we had planned. How many projects have you started? How many plans have you made the night before only to forget to look at the todo list until noon the other day.
Because of this, when you finally do walk your talk there is great sense of accomplishment. And it only takes one day to do it to know what I'm talking about.
You gain internal confidence that cannot be broken by anything because you've earned it. You get a calm sense of pride in your abilities and you think, if I can do this I can do anything. You start to realize that you are in control of your mind, that is powerful. Even if you only do 3 things, if that's all you had planned, it's enough.
So plan carefully, even be too careful and put something you know you can finish before noon.
Habits
Staying consistent with my habits. I usually track no more than 3 new habits because that's all I can manage. More than that becomes too much for me to create a streak of successful days. And streaks are the best.
Currently my 3 habits are Fasting for 18 hours, not drinking coffee and reading 5 pages from Nikola Tesla's autobiography. The book is only 40 pages but whatever 🙂
Journal
Journalling has become an indispensable habit. I have enabled the daily, weekly and yearly journals in LifeHQ and I'm using them to record different levels of detail in there, but they all work in synergy.
Year journal
This is an easy one and everyone does it. At the end of the year I define my goals. I define some deadlines for the ones that I can. But when building a startup like LifeHQ the journey has just begun.
Week journal
We are all good at estimating what can be done in a week. Month is a bit more difficult so I stick with weeks.
I define what I plan to do by midweek, Wednesday, and what by the end of the week, Saturday.
At the end of the week I review my daily journals and make improvements to my daily schedule if needed.
Day journal
This is where I put my daily wins, mistakes and lessons. Record your days for one week and then review them on the weekend. It sounds boring but it's fun. And you have no idea how  easy it is to forget once a day or two passes.
Win your days from the LifeHQ dashboard
Tracking my daily wins was an inspiration to redesign the LifeHQ homepage and make it show the daily win status. I also created a widget that is shown on every page in the top right corner that also reminds you what is left to be done wherever you are.
Give it a try, take it seriously and change your life.
Darko Kolev
Productivity nut, Tech lead, Writer. Founder of FocusHub, the First Productivity social network.
Related posts